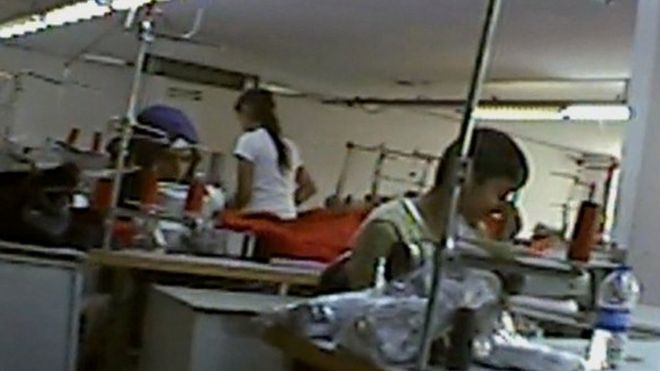 Panorama, el programa de investigación de la BBC, descubrió que refugiados sirios, entre ellos menores de edad, son explotados en fábricas que producen ropa para reconocidas marcas como Mango, Marks and Spencer y Asos.
Es la dura realidad de decenas de sirios que abandonaron su país huyendo de la guerra y residen en Turquía en condiciones precarias. Respuesta del partido SAIn

Todas las marcas involucradas negaron responsabilidad y señalaron que monitorean cuidadosamente sus cadenas de producción y proveedores.
Añadieron que no permiten la explotación de refugiados ni de menores.
Sin embargo Panorama encontró y conversó con decenas de trabajadores sirios que son empleados de manera ilegal en talleres textiles.
Para la realización del reportaje se utilizó una cámara oculta.
Como un pedazo de tela…
La investigación de Panorama también encontró a cuatro menores de edad sirios trabajando en un taller que produce ropa para Marks and Spencer y la cadena Asos.
Refugiados adultos también fueron hallados produciendo ilegalmente en fábricas que confeccionan jeans para las marcas Mango y Zara.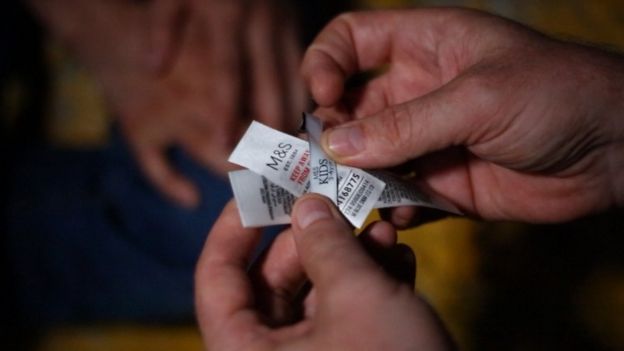 De acuerdo a los testimonios recogidos, estas personas ganan un poco más de US$1 por hora, cifra que está muy por debajo del salario mínimo en Turquía.
Un intermediario les realiza los pagos en la calle, casi en la clandestinidad.
Uno de los refugiados le relató a Panorama los maltratos que reciben en esas fábricas.
«Si algo le pasa a un sirio, se deshacen de él como un pedazo de tela«.
El trabajador menor en una de las fábricas visitadas tenía 15 años y trabajaba más de 12 horas diarias planchando ropa que después tiene que ser enviada a Reino Unido.
Inaceptable
Consultada por la BBC, la compañía Marks and Spencer aseguró que en sus inspecciones no se encontró un solo refugiado sirio en su cadena de suministro.
Un vocero de la compañía afirmó que los hallazgos de Panorama son «extremadamente serios» e «inaceptables para Marks and Spencer«.
La empresa sostiene que otorga empleo legal y permanente a cualquiera de los sirios que trabaja en sus fábricas.
«Todos nuestros proveedores están contractualmente obligados a seguir nuestros principios globales de abastecimiento, que incluyen lo que esperamos y exigimos a ellos y su trato de los trabajadores«, señaló el vocero,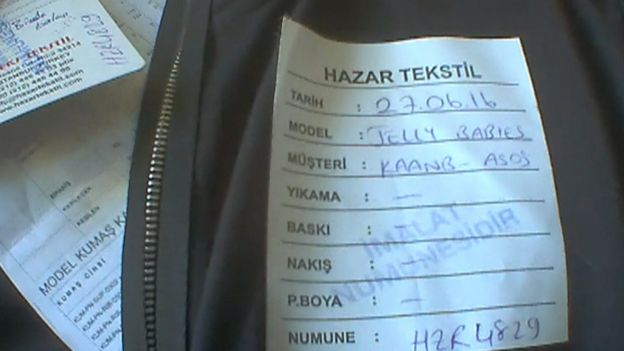 Sin embargo, hay quienes sostienen que las compañías no hacen lo suficiente para detener los problemas revelados por Panorama.
Danielle McMullan, del Centro de Derechos Humanos y Negocios de Londres, una organización que investiga casos de explotación laboral en alrededor de 6.000 compañías del mundo, afirma que marcas como las involucradas en la investigación no entienden que tienen responsabilidades.
«No es suficiente decir que no saben nada al respecto y negar las faltas».
«Ellos tienen la responsabilidad de supervisar dónde se están realizando sus ropas y en qué condiciones se fabrican», concluyó McMullan.
«Sueldos irrisorios»
Mucha ropa se hace ahora en Turquía ya que está cerca de Europa y por ello puede lidiar con pedidos de última hora.
Esto permite a los comerciantes tener los nuevos diseños en sus tiendas más rápidamente que si se fabricaran en otros lugares.
Pero Turquía se ha convertido en un lugar difícil para hacer negocios.
La explotación laboral en ese país va en aumento después de la llegada de casi tres millones de refugiados sirios.
La mayoría de los recién llegados no tienen permiso de trabajo y muchos de ellos son empleados ilegalmente en la industria textil.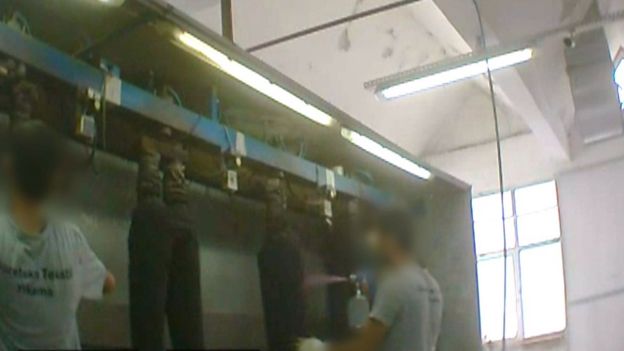 El periodista de Panorama Darragh MacIntyre conversó con decenas de trabajadores sirios que se encuentran en situación de explotación.
«Ellos hablan de sus salarios irrisorios y condiciones de trabajo terribles. Saben que están siendo explotados, pero también saben que nada pueden hacer al respecto».
Panorama ingresó en un taller en Estambul en el que varios niños sirios eran explotados.
Una prenda de Asos fue encontrada en el mismo lugar.
Consultada al respecto, Asos reconoció que ese taller elabora ropa para su marca, pero no es una fábrica «aprobada» por la cadena.
Desde entonces, la compañía en sus inspecciones encontró 11 adultos y tres menores sirios.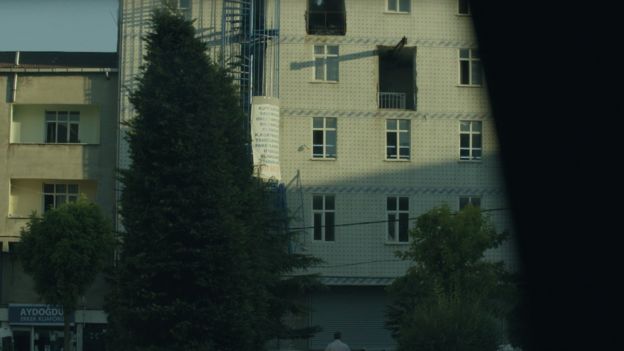 Asos señaló que los menores hallados recibirán apoyos financieros para que puedan ingresar a la escuela.
Los refugiados adultos recibirán un sueldo hasta que puedan encontrar un trabajo legal.
Un portavoz de la compañía señaló a Panorama que se pusieron en marcha programas de recuperación «a pesar del hecho de que la fábrica (donde fueron encontrados los sirios) no tiene nada que ver con Asos«.
Químicos peligrosos
Panorama también encontró refugiados sirios que trabajan 12 horas al día en una fábrica de jeans para Mango y Zara.
Los refugiados se encargaban de rociar peligrosos productos químicos para blanquear los pantalones de mezclilla.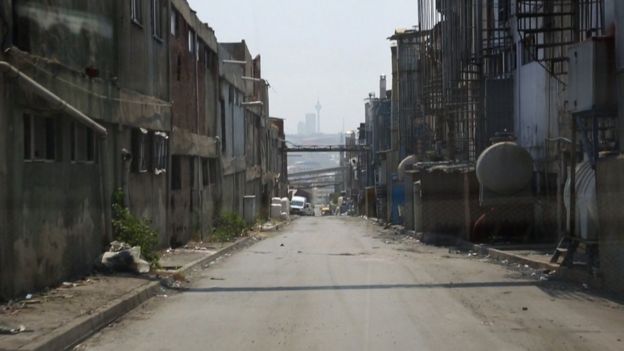 La mayoría de los trabajadores ni siquiera llevaba puesto un barbijo.
Mango reportó que la fábrica hacía de subcontratista sin su conocimiento.
En una inspección posterior no se encontró ningún trabajador sirio.
Mango dijo que sus trabajadores se encuentran «en buenas condiciones a excepción de algunas medidas de seguridad personales».
La empresa matriz de Zara, Inditex, le dijo a la BBC que detectó incumplimientos significativos en una auditoría en junio y otorgó a la fábrica involucrada un plazo hasta diciembre para hacer las mejoras requeridas.
Según la compañía, «creemos que ayudar a los fabricantes a mejorar sus condiciones ofrece un mejor resultado para los trabajadores que cancelar la relación. Sin embargo, si el fabricante no resuelve las irregularidades detectadas, Inditex cancela su relación comercial».
http://www.bbc.com/mundo/noticias-internacional-37757061
Respuesta del partido SAIn